User Manual
Introduction
Emoji Keyboard enables you to find and use emoji right within your favorite Office tools.
Key Features
📊 Provides more than 1300 distinct emoji (Unicode 9.0 standard).
🌈 Offers keyword-based emoji search, and skin tone modifiers.
🖌 Emoji can be inserted as text or as images in different sizes.
💰 Emoji images can be used commercially (CC-BY 4.0 licensed).
🔒 Requires minimal access permissions, and does not track usage data.
User Interface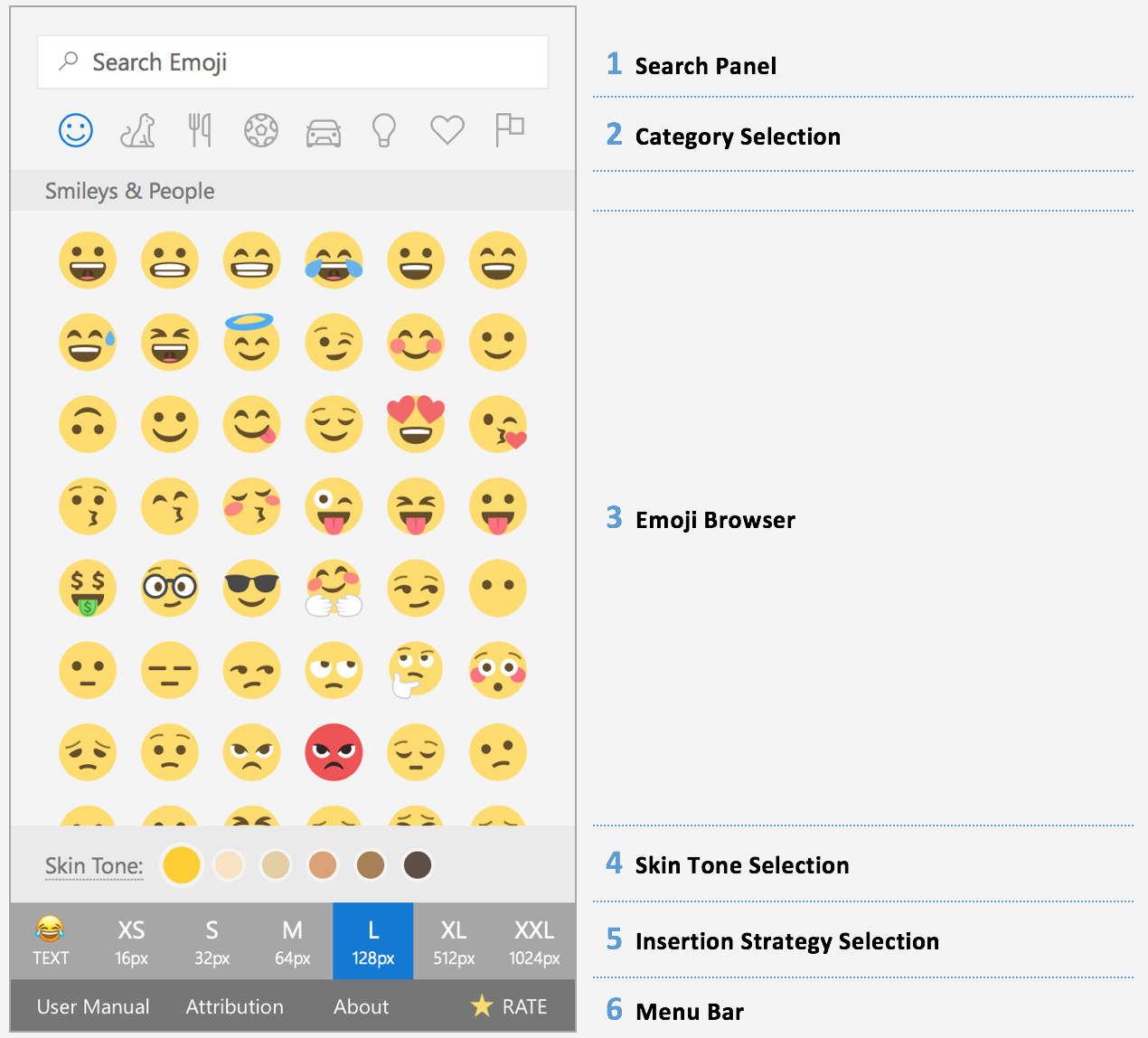 Finding Emoji
Browse
The 1300+ emoji are distributed across eight categories:
Smileys & People
Animals & Nature
Food & Drink
Activity
Travel & Places
Objects
Symbols
Flags
You can navigate through the categories by selecting the icons in the Category Selection panel.
Skin Tone Selection
More than 80 emoji in the categories Smileys & People, and Activity offer multiple skin tone variants.
When browsing either of the groups, the Skin Tone Selection panel is displayed, allowing you to browse through the different variants as illustrated in Figure 1.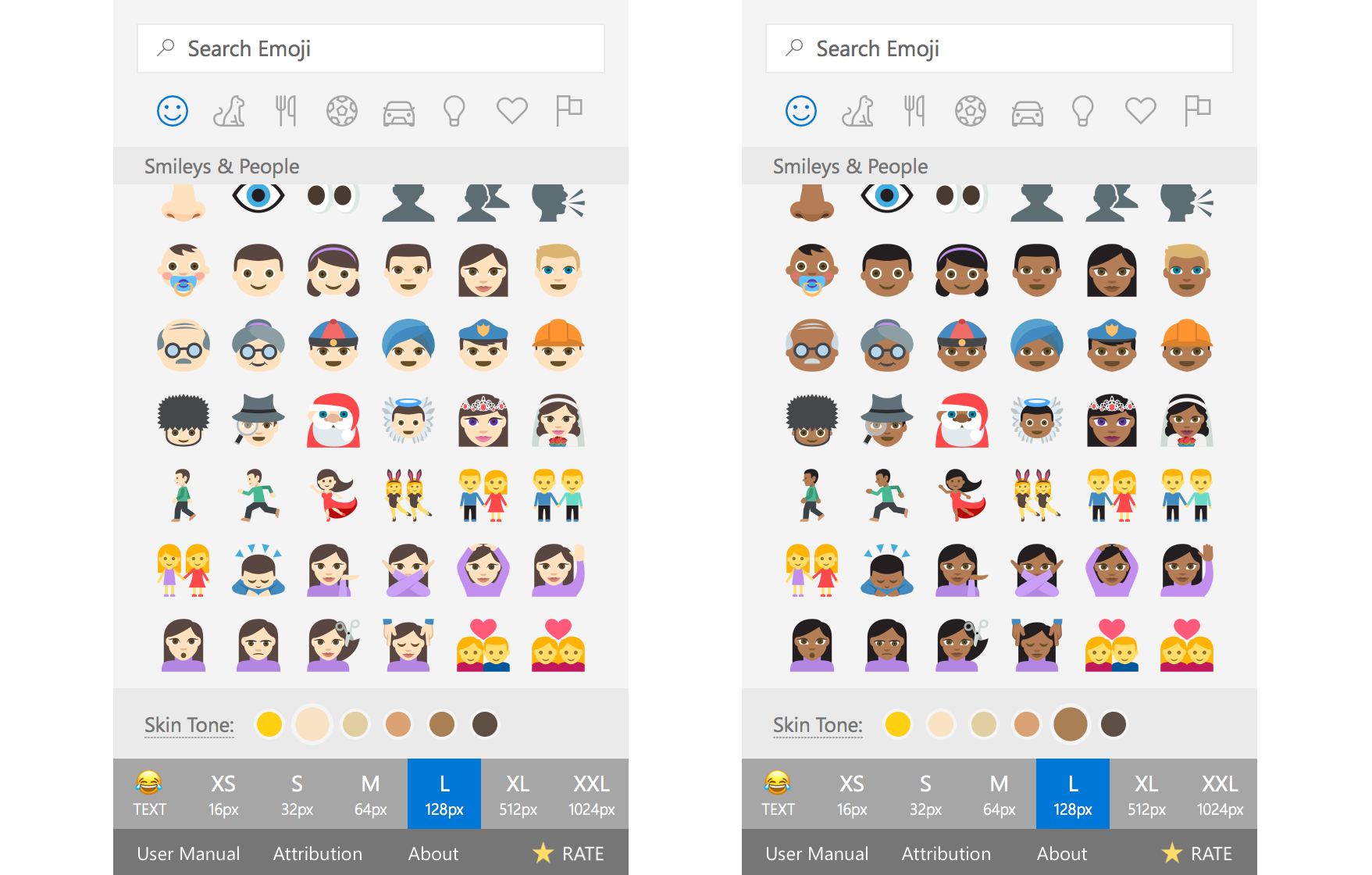 Search
To start a search, focus the Search Panel, and start typing.
The Emoji Browser will show the current search result as you type, providing instantaneous feedback. The search is based on keywords and the official emoji name. You can view the name of a given emoji in the browser by hovering it.
Inserting Emoji
To insert an emoji, simply select the corresponding image in the Emoji Browser – either by clicking the image, or pressing the Space/Enter key after focusing the item through keyboard controls.
The emoji will be inserted as either an image of a given size, or as platform-specific text, depending on the currently selected option in the Insertion Strategy Selection panel.
The panel offers seven options:
TEXT
Image

XS 16x16
S 32x32
M 64x64
L 128x128
XL 512x512
XXL 1024x1024
Figure 2 shows results of different insertion strategies.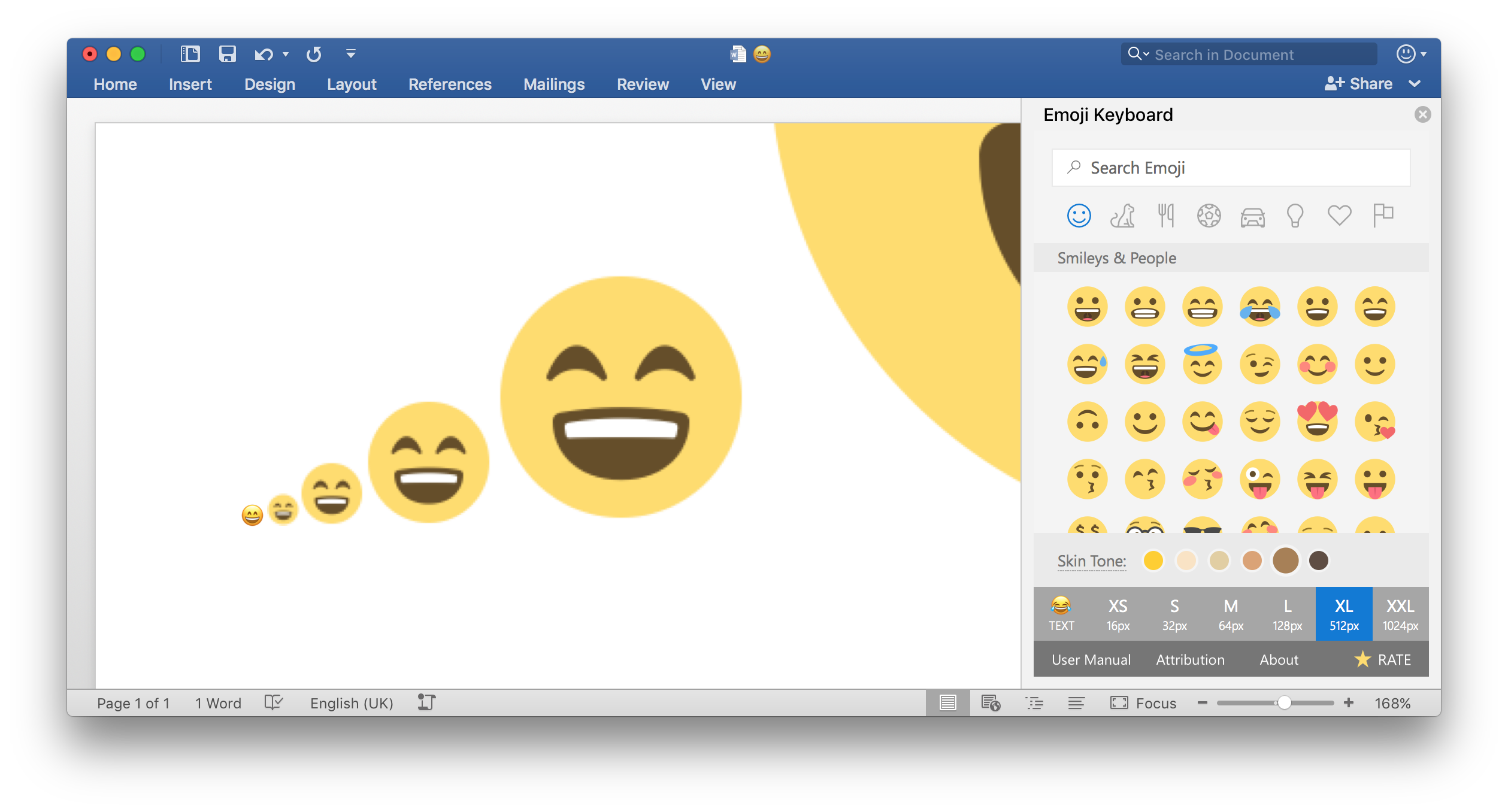 Insert as Image
When any of the image options is selected (XS – XXL), selecting an emoji will cause the corresponding image to be inserted at the current cursor position.
The options XL and XXL are well-suited for high-resolution scenarios, and for usage as e.g. background images as illustrated in Figure 3. You can use the built-in capabilities of Word/PowerPoint/OneNote to e.g. rotate and resize the images.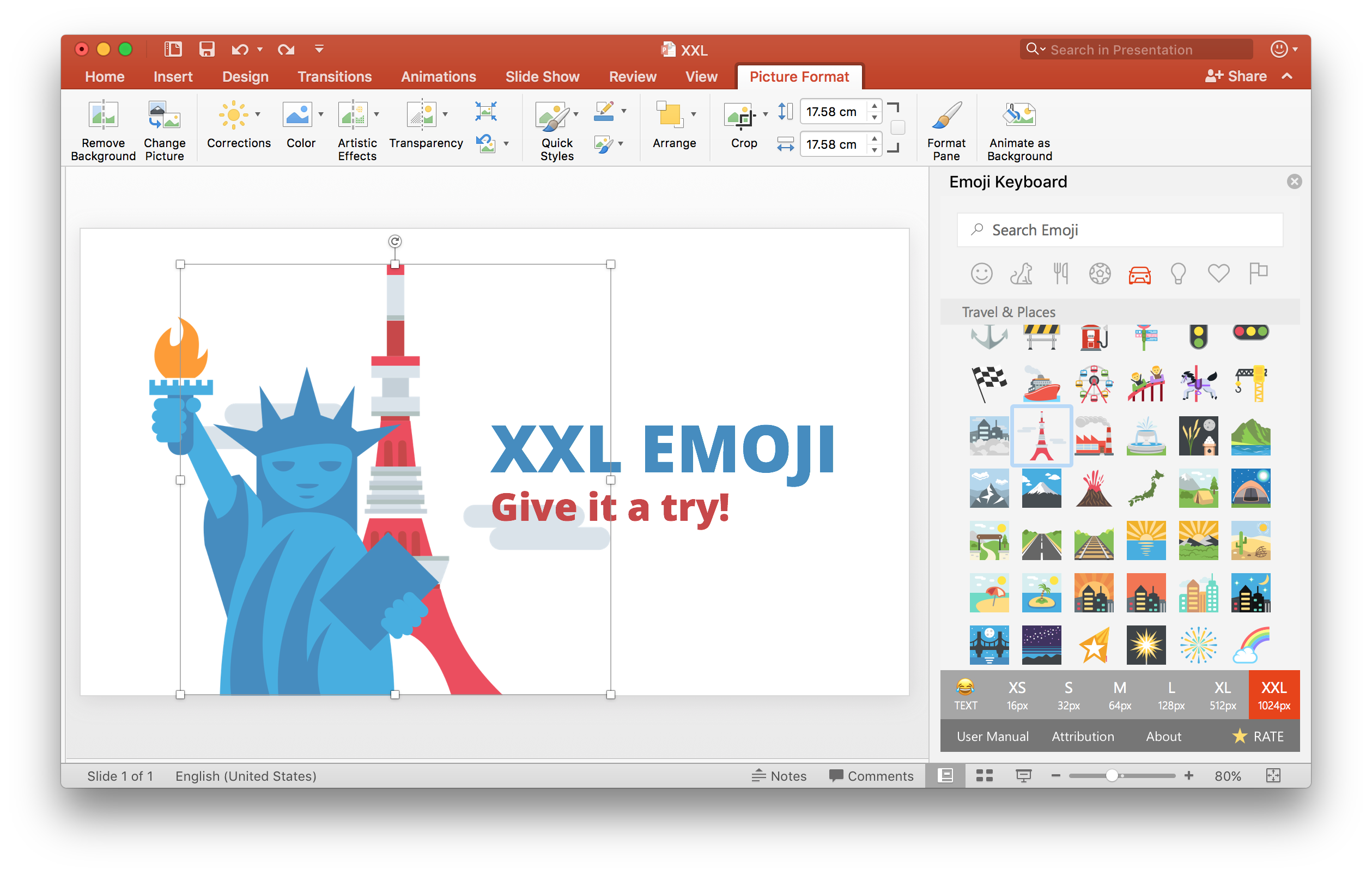 Insert as Text
When the TEXT option is active, Emoji Keyboard will try to insert selected emoji as equivalent text characters at the current cursor position. The results are platform-specific, and can vary significantly between different devices and operating systems (e.g. between Windows, macOS, and mobile phones).
This may cause cross-platform compatibility issues when sharing your work with others, and may cause misunderstandings as discussed by Miller et al. in [1].
The different image options (XS – XXL) guarantee a consistent experience across devices, however, TEXT can be more convenient in some cases, e.g. when embedding emoji in running text.
Further Reading
Miller, H., Thebault-Spieker, J., Chang, S., Johnson, I., Terveen, L., & Hecht, B. (2016). "Blissfully happy" or "ready to fight": Varying Interpretations of Emoji. ICWSM'16.
Commercial Usage
Image
The images are licensed under a free-culture Creative Commons License (CC-BY 4.0), which allows for commercial usage, but requires proper attribution.
The Attribution Guide in the Menu Bar provides pointers on how to correctly attribute the provider EmojiOne.
Text
The font used for rendering the inserted text is provided by the current operating system. Different operating systems use different fonts. As a result, appearance, support, and the licensing situation of the text-based emoji may vary by provider, version, and use case.

This information is supplied without liability.